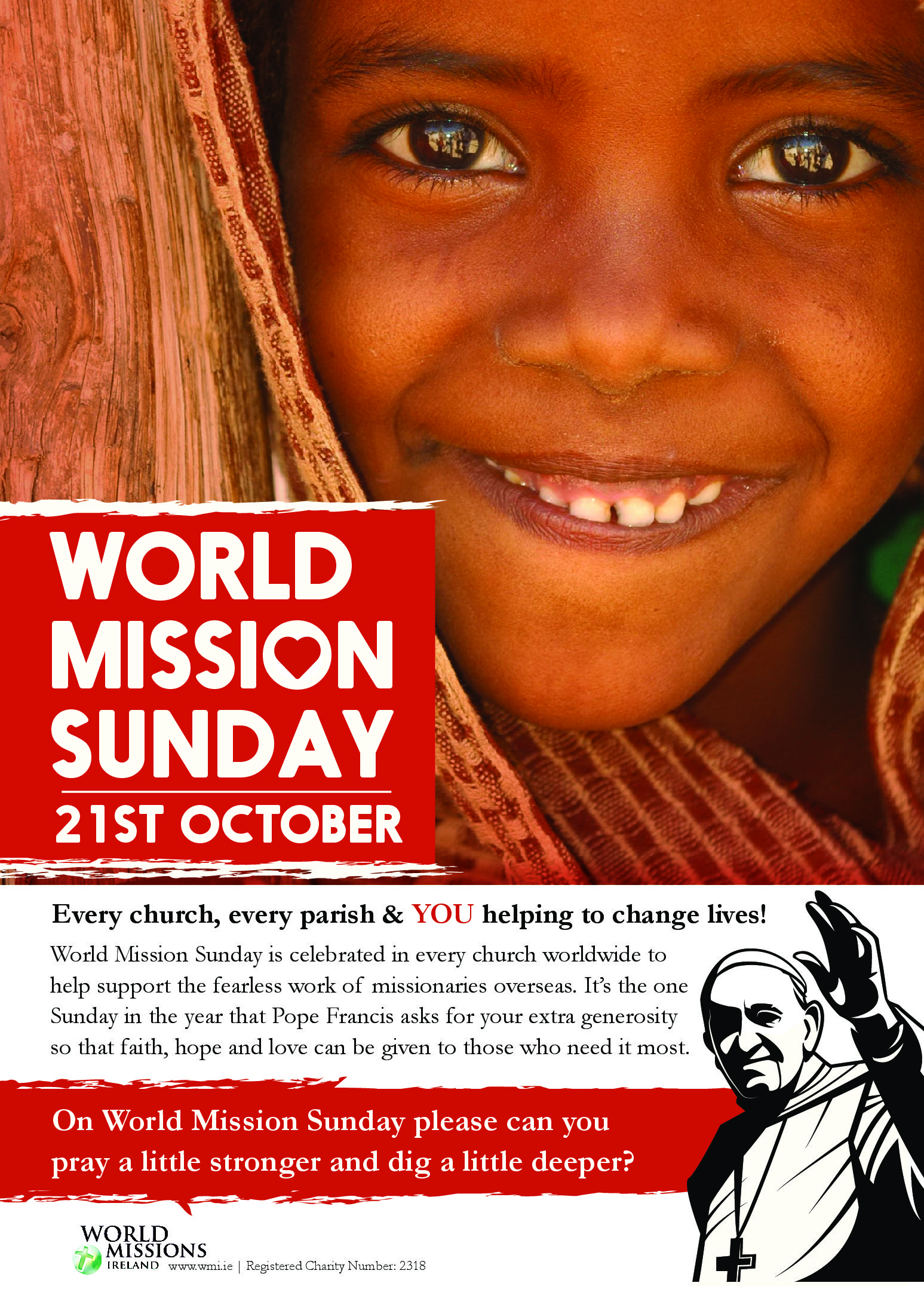 Next Sunday, 21st October, Pope Francis is asking you and every
Catholic worldwide to come together in celebration of World Mission
Sunday. On this very special day every Church, in every parish across
our globe will give what they can, no matter how little, towards the
World Mission Sunday collection.
Your contribution will be used to help spread faith, hope and love
by supporting overseas missionaries, many of whom work in some
of the world's most impoverished and remote communities. If you
can't contribute on the 21st, you can donate €4.00 now by texting the
word 'Mission' to 50300. (Texts cost €4. World Missions Ireland will receive a minimum of €3.60. Service Provider LikeCharity. Helpline 076 680 5278.
Republic of Ireland only)
Last year (2017) the Diocese of Ardagh & Clonmacnois donated €29,526,00, as part of the 26 Irish Dioceses donating in excess of €1.8 Million. This went to assist
49 Dioceses in Developing Countries
4 Nurses & Orphanages renovated and supported.
7 Child related programmes supported
over €115,000 sent to Catechists
25 Churches, Convents, offices, parish centres renovated & built
Q. Why do parishes support the Mission Sunday collection?
Every single parish throughout the world will celebrate World Mission
Sunday on October 21st. It is one of three mandatory, universal Papal
collections. It's been chosen by the Holy Father as a way for us to share
with our brothers and sisters who are in need.
World Mission Sunday is vital for the growth of the Church. It helps
spread hope and love by supporting the work of missionaries in
impoverished and remote communities. Funds raised also help build
much-needed infrastructure – from chapels and clinics, to nurseries and
schools. You're helping create hubs so that young churches can flourish,
spreading the Good News, ministering to the faithful and delivering
essential health and education programmes. World Mission Sunday
means that you and parishioners are ultimately helping to transform lives.